Activities at Holy Trinity
Children's Activities at Holy Trinity
Our Sunday morning children's activities are known as Holy Trinity Children's Church HTCC. The children join with us in church for the start of the service each Sunday morning before leaving for activities designed for their particular age groups. All children are welcome, whether or not their parents attend Church.
2nd Sundays of the month - 10.30am All Age Worship
A service designed so that the whole family can worship together in Church. On these Sundays there is No Children's Church Session in the hall.
God's Little Explorers is the group for pre-schoolers/under 5's. This is in the side chapel where the main service can be heard. Suitable materials and activities are set out for parents to help their little explorers discover about God and can be used at anytime during the service.
All Little Explorers must be accompanied by their responsible adult.
Razzamatazz Robots Holiday Club is for families with children up to 11 years of age.
It will be on Wednesday afternoons 2.30 - 5pm where we will find out about the plan of the master designer from creation to recreation. Learn about God's creation and that we are not robots. Songs, games, craft activities, drama and puppets ...
Dates for holiday club are 24th July, 31st July, 7th Aug, 14th Aug, 21st Aug
Forms are available from the church, to print off the website for you to fill in and drop in at the vicarage or for you to fill in online.
J711@htc
Monthly sessions of Games, Creativity + Faith
The 2nd Saturday of every month 5.30 - 7.25pm
Holy Trinity Church Hall
For Children aged 7 - 11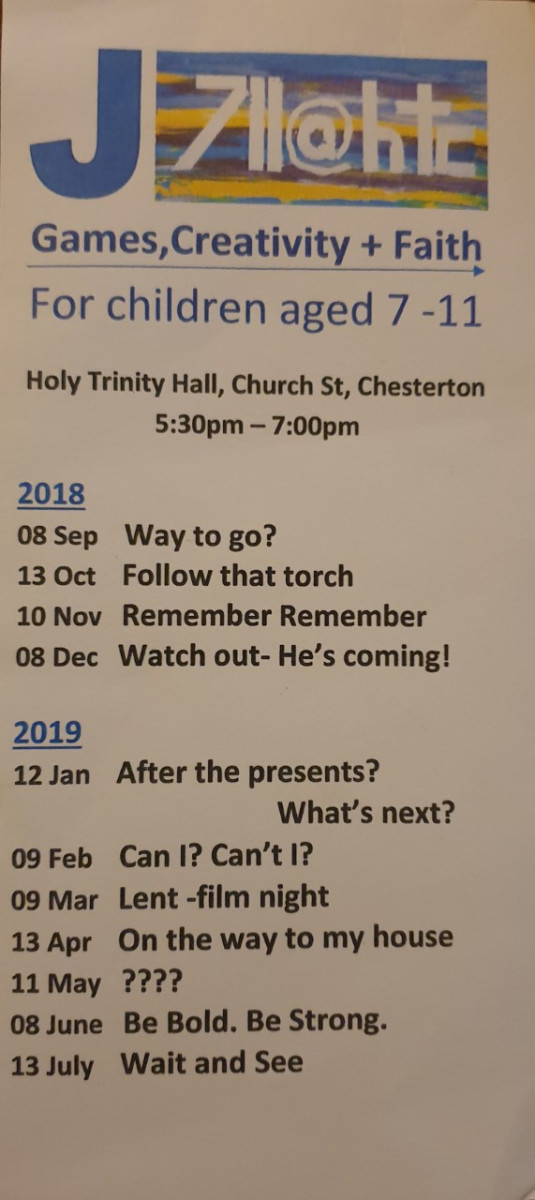 Time Out & Toast
Holy Trinity Church Hall - Chesterton
Every Wednesday during Term Time
9.00 - 11.00am
Come along for Fun & Friendship
Time Out - Space to Play for under 5's and Chat Time for adults
£1.00 per child
Tea & Chat
Tea and Chat meet up on the 1st Thursday of the month (except August) in the Church Hall at 2.00pm.
We have talks from a variety of speakers and the community choir also visit us. We also support The Big Macmillan Coffee Morning
Bible Discovery
7.30pm every Thursday evening at the Vicarage. Everyone welcome